Windows 8
Windows 8 includes a new backup solution called "File History". After you turn it on, File History automatically backs up every file in your libraries every hour. The program is easy to turn on, is simple to figure out, runs automatically, and backs up everything you need.
Before File History can go to work, you need two things:
An external hard drive: For dependable, automatic backups, you need a portable hard drive, which is simply a hard drive in a little box. A cord connects from the box to one of your computer's USB ports; when the drive is plugged in, Windows 8 recognizes the drive immediately. Keep the drive plugged into your computer, and you'll have completely automatic backups.
A flash drive (those inexpensive, pocket-sized memory sticks) will also work with the Windows 8 File History program. But because they lack the storage capacity of a portable hard drive, they won't be able to back up all of your files.
Flip the "On" switch, the File History program comes free in every version of Windows 8, but it won't do anything until you tell it to begin running.
Follow these steps to tell your computer start backing up your work automatically every hour:
1. Plug your drive or its cable into your USB port.
2.  Click the pop-up notification that says, "Tap to choose what happens with removable drives".
The notification appears whenever you plug in any new storage device, be it a flash drive or portable hard drive. (The notification appears on both the desktop and Start screen.)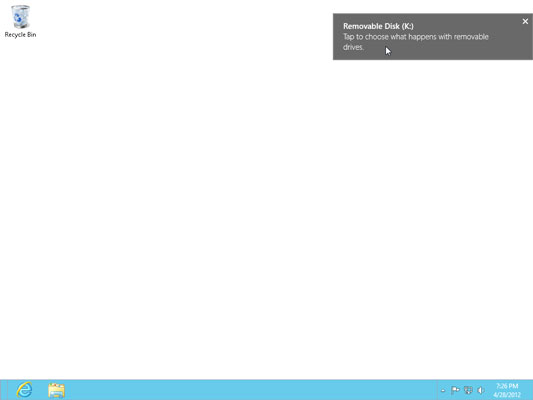 Don't see the pop-up? Or do you want to tweak your existing File History settings? In either case, jump ahead to Step 4.
3.  Select the "Configure this Drive for Backup" option; when the File History window appears, click the "Turn On" button.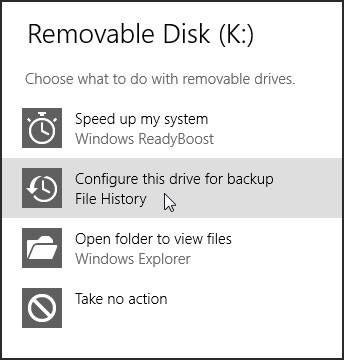 You may see a pop-up asking whether you'd like to recommend this drive to other members of your Homegroup. If it's a large drive meant for everybody on your computer to share, choose Yes. If you'd like to keep it for your personal backups, choose No.
File History begins saving copies of your files for the first time. Depending on the size and amount of your files, the process could take anywhere from a few minutes to a few hours.
If you don't see any pop-up messages when you plug in your drive, move to Step 4.
4.  Open the Control Panel.
With a mouse, right-click in the screen's bottom-left corner; choose "Control Panel" from the pop-up menu.
From the desktop, slide your finger inward from the screen's right edge, tap the Settings icon, and tap the Control Panel link in the screen's top-right corner.
5.  Select the "System and Security" category and click "File History".
The File History program will appear on the screen. The program will make a guess as to which drive you want to begin filling with your backups. If it chooses the correct drive, go to Step 7. If not, you'll need Step 6.
6.  If you need to switch the drive, click the "Select Drive" link from the window's left side and select a different drive.
7.  Click the Turn On button to get the backup process going.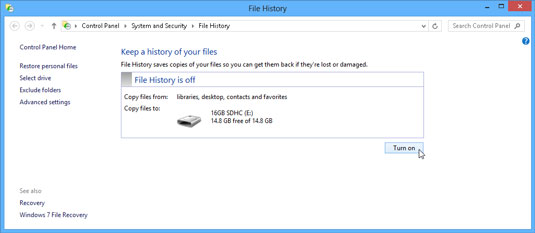 Although File History does a remarkable job at keeping everything easy to use and automatic, it comes with a few bits of fine print, described here:
If you try to save to a networked drive on another PC, Windows 8 asks you to enter a username and password from an Administrator account on the other PC.
File History backs up everything in your libraries: Documents, Music, Pictures, and Videos, as well as the Public folders. That's natural because that's where you store your files. To add new folders or exclude some libraries (perhaps exclude your Videos folder if you already have copies of your videos), choose the "Exclude Folders" link from the windows' left edge.
Windows 8 normally backs up files automatically every hour. To change that schedule, click the "Advanced Settings" link from the windows' left edge. Then choose the backup frequency, which ranges from every 10 minutes to once a day (which for most users, should be sufficient).
When you turn on File History, Windows 8 immediately starts its backup — even if one isn't scheduled yet. That's because Windows 8 tries to make sure that it saves everything immediately, before changes or problems may occur.
Not only does File History work in emergencies, but it also enables you to compare current files with versions you created just hours before. It lets you revive previous versions of the same file, which have since been altered.
Windows 8 saves your backup in a folder named "FileHistory" on your chosen drive. Don't move that folder, as it may make it difficult for Windows 8 to find it again for a system restore or future backups.